Start date:

1 November, 2015

- End date:

1 April, 2016
'The Fuel Bill Drop Shop': an investigation in community action on fuel poverty
Introduction
Fuel poverty is a persistent problem in the UK, which has implications on people's every day wellbeing and health, as well as wider implications on the questions of equity and justice within the energy system. Fuel poverty has usually been defined as the need to use more than 10% of a person's income to pay energy bills, i.e. to meet the need to use gas and electricity for services such as heating a home, using lighting and appliances. It is usually attributed to three factors: 1) the quality of housing stock, 2) energy bills and 3) household income, all of which are influenced by complex societal, economic and political factors. In 2013, an estimated 2.35 million households lived in fuel poverty in England.
Numerous government programmes have aimed to tackle fuel poverty over the years. These have included for example energy supplier obligations, the latest of which has been the Energy Companies Obligation which has a certain proportion of energy efficiency measures aimed at the most vulnerable customers. However, despite government action on fuel poverty, the problem persists and policy action has been somewhat intermittent. For example, in England the Fuel Poverty Strategy published in 2015 was the first one in 14 years.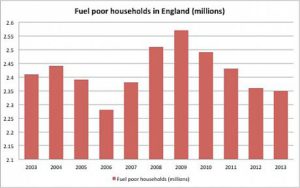 In the light of persistency of the fuel poverty problem, new actors have emerged in the fight against fuel poverty. A number of community energy groups have hosted an 'energy shop' in their local area. This is typically an advice desk staffed by volunteers who provide advice about energy issues to the public. This advice might focus on energy market engagement, energy efficiency or behaviour change.
Aims
This research is particularly interested in the 'energy shop' model as a way for community energy groups to help those living in fuel poverty. This research will seek to establish the feasibility of replicating this model in other parts of the country. The project has the following key aims:
Understand what motivates energy shops and why they are run
Establish whether energy shops provide an effective form of intervention to alleviate fuel poverty
Investigate whether energy shops provide a cost effective intervention
Assess how the energy shop compares to other measures, such as home visits
Research questions
The key research question of the project is:
Does advice through energy shops work, with whom and under what circumstances? 
Methodology
The project uses qualitative methods including documents analysis and interviews with those who have run and those who have visited an energy café.
Project team
The project is funded by the Chesshire Lehmann Fund and is conducted together with Dr Giovanna Speciale from South East London Community Energy (SELCE). SELCE is a cooperatively owned not-for-profit social enterprise that is committed to enabling organisations that provide valued community services to access the benefits of renewable energy, and also to providing tangible improvement in the financial situation of those living in fuel poverty in South East London.
Project publications
Working and conference papers
Project Engagement
Mari Martiskainen spoke about fuel poverty and energy cafes in University of Sussex video
Speaking at Public Policy Exchange event on fuel poverty, 22 November 2016
Presentation at IEA DSM Task 24 workshop, Wellington, New Zealand 8 July 2016
Paper presented at SCORAI conference, Maine 15-17 June 2016
Community Solutions to Fuel Poverty workshop, Energise Sussex Coast, 13 May 2016
Tackling fuel poverty, whose responsibility is it?, ESRC Festival of Social Science, 10 November 2015