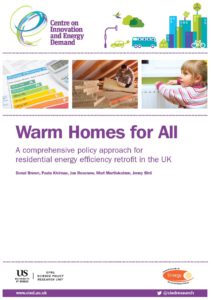 The multiple benefits of energy efficiency (EE) 'retrofit' mean it should be the cornerstone of the government's energy and housing policy. However, despite recent polices, the UK still has
one of the least efficient housing stocks in Europe. This report is focused on some of the solutions to this retrofit challenge, based on the aspirational targets for all UK homes to be EPC band C by 2035 and for fuel poor homes by 2030 – as set out in the UK Government's Clean Growth Plan.
This report argues that new policies must address four interrelated challenges that continue to contribute to low household demand for residential retrofit:
A widespread lack of information, engagement and trust with households on the options for and advantages of EE retrofit.
Consumers often feel retrofit has uncertain benefits and quality owing to the absence of guarantees on performance and a low skilled supply chain.
To undertake a comprehensive retrofit, households face significant complexity, disruption and poor integration with the timing of wider renovation decisions.
Finally, the up-front capital cost and split incentives between landlords and tenants, or those looking to move, can be a major barrier.
To overcome these interrelated challenges, the researchers draw on best practice examples from three of the key elements for undertaking a retrofit: the installer business model, the financing and the role of intermediaries. To deliver the Government's targets a comprehensive package of policy measures will therefore be required as it is unlikely that the EPC band C goal can be achieved through a single policy instrument.