Energy efficient improvements to home heating, insulation, lighting and appliances could reduce the energy consumed in UK households each year by a quarter and knock £270 off the average household energy bill of £1,100 – a saving that is equivalent to the output of six nuclear power stations the size of Hinkley Point C.
That's according to a briefing paper published today by the UK Energy Research Centre [1] and University of Sussex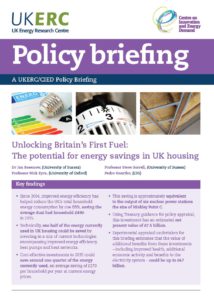 Centre on Innovation and Energy Demand [2], which comes ahead of the Government's long-overdue Clean Growth Plan [3] and amidst an ongoing independent review into the cost of energy [4].
Using strict HM Treasury guidelines for policy appraisal – which involves estimating the cash value of changes in energy demand, CO2 emissions, air quality and home comfort – the researchers estimate that investing in efficient heating, insulation, controls, lighting and appliances could deliver a net benefit to the UK economy of £7.5 billion [5].
The full economic benefits of reducing energy demand by a quarter could be up to £47 billion [6]. This includes further economic benefits of improved health from warmer homes, stimulus to the economy of installing the energy efficiency improvements required, and capacity saved in the electricity system. Some of these benefits would also arise from other types of low carbon investment.
The briefing paper also finds that it is technically possible to reduce energy demand by a further 25 per cent [7], and that these additional savings could also pay for themselves in the future [8]. This means that it may be possible in time to halve energy demand in UK homes.
Jim Watson, Director of the UK Energy Research Centre, said:
"This research proves that there is still huge potential to save energy from UK homes.  It is clear that reducing energy demand needs to be a priority if the government is serious about bringing down energy bills. It should be the centrepiece of the Clean Growth Plan, which is now overdue."
Jan Rosenow, Senior Fellow at the Centre on Innovation and Energy Demand, said:
"Savings from energy efficiency improvements in homes since 2004 mean a typical dual fuel customer's bill was £490 lower in 2015 than it would have been without those improvements. At the same time, households use more appliances, more lamps and enjoy higher in-home temperatures than they did in 2004.
"Past achievements go to show that huge energy cost savings can be realised quickly and without compromising the benefits households enjoy from their energy services. With further investment in energy efficiency, this trend can continue for many years to come, so there is every reason to be ambitious about a low cost energy future."
Notes to editors: 
[1] The UK Energy Research Centre (UKERC) carries out world-class, interdisciplinary research into sustainable future energy systems. It is a focal point of UK energy research and a gateway between the UK and the international energy research communities. Our whole systems research informs UK policy development and research strategy. UKERC is funded by The Research Councils Energy programme.
[2] CIED, the Centre on Innovation and Energy Demand at the Universities of Sussex, Oxford and Manchester is one of six End Use Energy Demand Centres funded by the Research Councils UK Energy Programme. It sits at the forefront of research on the transition to a low carbon economy. It investigates new technologies and new ways of doing things that have the potential to transform the way energy is used and achieve substantial reductions in energy demand.
[3] The review comes in the wake of the Conservative Party's 2017 manifesto pledged to "commission an independent review into the Cost of Energy, which will be asked to make recommendations as to how we can ensure UK energy costs are as low as possible, while ensuring a reliable supply and allowing us to meet our 2050 carbon reduction objective." It is being led by Professor Dieter Helm, will focus only on the cost of electricity, is not permitted to make recommendations that would impose further costs Exchequer, and is geared towards the cost of supplying households and business, rather than the costs households and businesses actually pay.
[4] The Clean Growth Plan is expected during the current Parliamentary term. It needs to set out how the UK will reduce its greenhouse gas emissions to stay within legal limits out to 2032. On current trends, the UK is set to miss its emissions reduction targets. A significant part of the gap to meeting the targets stems from insufficiently ambitious plans to reduce emissions from buildings, in particular from homes, through improved energy efficiency and low carbon heating.
[5] This is the net present value of the investment in improvements to the housing stock deployed from now to 2035, expressed in 2014 £ and calculated in accordance with 'Valuation of energy use and greenhouse gas (GHG) emissions – Supplementary guidance to the HM Treasury Green Book on Appraisal and Evaluation in Central Government'
[6] The present value of improved health has been estimated at £4.6bn; stimulus to the economy at £38.2bn; and capacity saved in the electricity system at £4.3bn.
[7] Energy savings equivalent to more than 50% of current household energy consumption could be achieved through a combination of energy efficiency improvements (insulation, efficient boilers and controls), heat pumps and heat networks (district and community heating) where they are effective. Using Treasury criteria, the report estimates that half of this energy saving would be cost-effective in the period to 2035, giving a 25% reduction in energy consumption. At current energy prices, this equates to energy cost savings of £270 per household per year. The technical potential is significantly larger than the current cost-effective potential.
[8] Experience with low carbon technologies (most obviously solar photovoltaics) shows that increased deployment leads to falling costs and improving performance which makes such technologies increasingly cost-effective. These 'learning economies' have wider social benefits that are not captured by individual investors. Policy support for deployment can therefore be justified and will bring the cost-effective potential closer to the technical potential. In short, the main rationales for policy support for low carbon energy supply are equally relevant to energy efficiency, but are largely neglected in current UK Government policy.