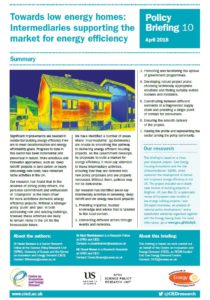 This policy brief looks at the low energy housing sector and what drives low energy building projects in the UK. The research found that in the absence of strong policy drivers, it is the personal commitment and enthusiasm of individuals acting as 'champions' is the main driver behind more ambitious domestic energy efficiency projects. The policy brief identifies so-called 'intermediary' activities that are essential when delivering 'deep' retrofit and low energy new build projects.
The report is based on a three-year project including six in-depth case studies of building projects in Brighton, UK.
Find out more about our project, including further information on the six case studies, on the 'Low energy housing innovations and the role of intermediaries' project page.