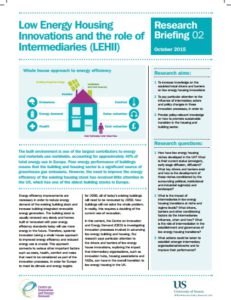 The built environment is one of the largest contributors to energy and materials use worldwide, accounting for approximately 40% of total energy use in Europe. Poor energy performance of buildings means that the building and housing sector is a significant source of greenhouse gas emissions. However, the need to improve the energy efficiency of the existing housing stock has received little attention in the UK, which has one of the oldest building stocks in Europe.
This research briefing sets out the main aims of our project on Low Energy Housing Innovations and the role of Intermediaries (LEHII). These are:
To increase knowledge on the sociotechnical drivers and barriers on low energy housing innovations
To pay particular attention to the influence of intermediary actors and policy changes in these innovation processes, in order to
Provide policy-relevant knowledge on how to promote sustainable transition in the housing and building sector.
The briefing also describes the research methodologies used in the project and how the project will engage with stakeholders to achieve impact.