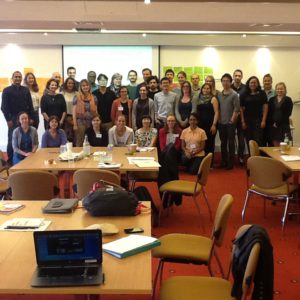 The Centre on Innovation and Energy Demand (CIED)'s first ever Summer School on Accelerating Innovation to Reduce Energy Demand took place from 10-12 July 2017 at the University of Sussex, Brighton, UK.
The Summer School provided 28 doctoral, postdoc and early career researchers with a unique opportunity to hear from leading thinkers in the fields of innovation and energy demand, to take part in collaborative learning and participatory activities, and to meet other research students and early career researchers from around the world.
To read the blog about the Summer School, please click here.
To view the photo gallery, please click here.
To view the list of presentations, please see below:
Four theoretical diffusion models, with empirical illustrations (Frank Geels)
Introduction to socio-technical approach of the Centre on Innovation and Energy Demand (Frank Geels)
Innovation intermediaries in low energy transitions (Paula Kivimaa)
Are Users Driving Sustainability Transitions? (Johan Schot)
Governance theme: Policy mixes for accelerating low carbon innovation (Karoline Rogge)
Skills session: achieving academic impact (Benjamin Sovacool)
Skills session: Achieving policy impact (Fraser Macleod, Department for Business, Energy and Industrial Strategy);
Achieving policy impact: The campaigning NGO perspective (Paul Steedman, Friends of the Earth)