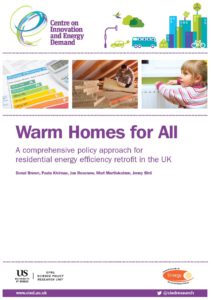 The UK is at risk of missing its climate change targets, unless policies are put in place that help speed up the uptake of comprehensive energy efficiency home improvements, say researchers at the University of Sussex.
According to a new report published by the Centre on Innovation and Energy Demand (CIED), more ambitious mix of policies are needed to deliver the required energy savings in UK homes – currently among the least efficient in Europe – by 2035.
The report argues that for the UK to achieve the energy efficiency targets set out in the new Clean Growth Strategy, the government needs to do more to increase the uptake of home energy retrofits by introducing minimum Energy Performance Certificate (EPC) ratings when selling a house, provide cash incentives such as reduced stamp duty for more efficient homes, promote new financing solutions such as green mortgages, and reduce the complexity of getting advice, sourcing measures and funding through the creation of local one-stop-shops run by councils or local co-operatives.
Residential buildings account for almost a quarter of the UK's carbon emissions. The Government's recent Clean Growth Strategy has set an aspirational goal for all domestic buildings to achieve an EPC level C or higher by 2035.
In a recent statement, UK Prime Minister Theresa May pledged to reduce emissions from new buildings and halve the costs of reaching the same standard in existing buildings. Following the UK Government enquiry last year on 'Building a market for energy efficiency', the government is yet to announce concrete policies on how it plans to promote energy efficiency.
As CIED researchers have shown in a previous report, cost-effective investment in energy efficiency measures by 2035 could save around a quarter of the energy currently used.
Alongside meeting the UK's climate change obligations, investing in energy efficiency has significant co-benefits, including for health, social care, welfare as well as employment. The research argues that a new policy approach should emphasise these benefits of comfort health and wellbeing and property improvement value, likely to be valued above energy cost savings by households.
The report outlines how consumers are still unconvinced on the benefits of retrofit due to a lack of information, engagement and trust with households on the options for and benefits of undertaking eco renovation, an absence of guarantees on energy performance and a shortage of skilled installers, the complexity and disruption faced by households looking to undertake a retrofit and the high up-front capital cost and split incentives between tenant and landlords.
Report author Dr Jan Rosenow of the University of Oxford and until recently, member of CIED at Sussex, emphasised:
"The way building retrofits are currently delivered is too complicated. Its piecemeal offering, focus on single measures and the lack of guarantee for energy savings significantly reduces its appeal to consumers. "
The study recommends the creation of financial incentives such as variable stamp duty, a new low-cost financing mechanism tied to the property for those able-to-pay and a fuel poverty grant paid for by general taxation for households living in fuel poverty.
Alongside the financial incentives, the researchers emphasize the need to extend new regulation around Minimum Energy Efficiency Standards (MEES) to owner occupiers as well as new retrofit quality assurance standards. The government is also advised to create an Information Hub, and to improve the provision of information on retrofits through local one-stop-shops where households can also source contractors and financing.
The report also looks at the way retrofit projects are currently delivered and offers an insight into new, innovative approaches elsewhere that can simplify the delivery of these projects, offer energy saving guarantees and reduce the burden on the consumer.
Donal Brown, lead author of the report, explained:
"If whole house retrofits are to be taken up more widely in the UK, suppliers need to emphasize a broader source of value; focussed upon final energy services, aesthetics, increased property value, comfort, health and wellbeing alongside energy and carbon savings. As we have seen in the Netherlands, for example, such approaches involve integrated and increasingly industrialised supply chains providing comprehensive whole-house retrofits, through a single contractor or well integrated network of sub-contractors.This makes the consumer's life a lot easier and the process a lot more appealing".
Read the full report.
Find out more about our work on Housing and Buildings.